Alright people of the old internet.
We've just spent a week recording what will be our third album.
There's still work to be done, but here's some facts and figures. So far, we :
Recorded 8 songs. Used 31 mics. Ate 16 crawfish sandwiches. Drank too many expressos. And met the cutest dog of Lausanne : François-Léon.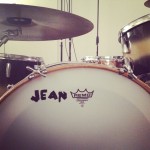 Next : 3 more songs to record and then the fun parts with vocals, pianos, shakers, bouzoukis and guitars solos.
If you want more behind the scenes stuff, follow us on Facebook or Instagram.